5 Reasons Why Most Businesses Don't Have An Email Marketing Campaign
Having an email marketing campaign is the best way to connect with your readers, stay relevant, and create leads.
The statistics on email marketing are astounding.
According to this articled by CampaignMonitor, the ROI on emails is 4400%.
That's $44 for every $1 spent!
That's a lot of moo-la!
So why don't more people use email marketing campaigns as a tool to generate leads?
1. You're Too Busy To Create An Email Marketing Campaign
You've got 4 million things on your list, and email marketing is at the bottom of that list.
You know it will generate more leads, but you just don't have the time to add one more item.
This is what I hear from every single one of my email marketing clients.
They know they need to connect with their clients/readers, but they just can't spare the time.
2. You Don't Know What to Say
What do you say in an email marketing campaign?
You know there is a science to turning a reader into a buyer, but again, you just don't have the time to learn it.
Since I've been doing email marketing, I've developed some processes that help me understand a client's brand and voice.
The biggest part of the job is figuring out what to say and in what order.
I have an extensive discovery process that helps me understand everything I need to know to develop a plan.
If you haven't already done that, I conduct client research either by contacting clients directly or using a survey (this depends on your industry).
Once that is done, I analyze all of the information.
This is the most crucial part of the process.
What I'm looking for is pain points, what they struggle with, and how your product or service is going to alleviate that stress in their lives.
This process can take a few weeks, depending on the amount of data collected and how long it takes to get information back.
At this point, we have to decide what type of sequence you want to create.
3. You Don't Know What Type of Email Campaign Sequence to Use
There are too many sequence types to count, but here are a few of the more common ones:
The Most Common – Welcome Sequence
A welcome sequence is more generic and welcomes your reader to your email list.
These are sometimes referred to as a nurture sequence.
When your reader signs up for a newsletter, you want to nurture the relationship so they stick around.
I recommend writing it like you're writing to a pal.
Natural and relaxed, not stuffy and formal.
The idea is to offer tons of value upfront. Don't start selling things right away.
You want to build a relationship with the readership.
Then in the last email, you sell.
If you've ever heard of a soap opera sequence, this is similar but has its own format.
Some Other Email Sequence Types
There are many other types such as:
Abandoned cart sequence
Cold subscribers sequence
Conversion sequence
Onboarding
Find out more about sequence types from Convertkit and Growth Manifesto
Many email sequence types are similar but have a few small differences.
4. You Have to Have Time to Research Type, and Edit the Emails
After all that prep, now you can start writing the emails.
Although this is the easy part, it does require some skill.
There are copywriting techniques that can help produce better results.
For instance, I have a 19 point checklist I use to edit my emails.
Some things you want to remember or keep in mind:
Insert a call to action
Make sure your subject line makes the reader want to click on it
Keep your email design easy to read
I always walk away after what I think is the final edit, then come back to it with "fresh eyes."
Most clients like to see the final product before it's scheduled out.
They also sometimes want to make a few very minor tweaks.
5. Monitoring the Results of Your Email Marketing Campaign
Monitoring what happens after the email is sent out is very important.
Each client has a readership that is slightly different. They don't all react the same.
This helps me test different types of titles, wording, and adjust course based on what the readers like.
Ain't Nobody Got Time For That!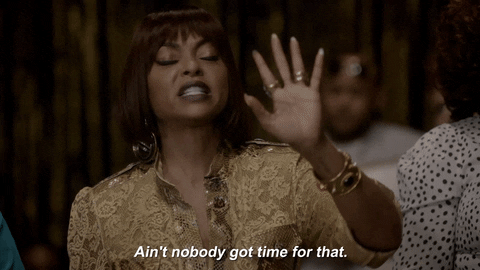 The average business person, blogger, or entrepreneur does not have time to run through all of those steps.
Before they even execute these tasks, they need to research how to do it properly.
That's where I come in!
Every single one of my email marketing clients has hired me because they don't have the time to research and execute.
Do You Have the Time?
If you do have the time, please reach out and I will be happy to point you in the right direction on where to learn all of these skills.
If you don't have the time, but still want to generate more leads, please reach out and we can discuss working together.