How to be a Successful Blogger – Advice from the Pros (with incredible traffic)
Learning how to be a successful blogger can be a long and painful process if you start from scratch.
From the dawn of time, people have been passing on their expertise to others. Yes, you can learn how to be a successful blogger without any advice from others.
Welcome to your free blogging course.
Okay, it's not really a blogging course, but it's advice straight from the experts who have learned all the hard lessons and want to help you skip the hard parts of the learning curve.
Don't underestimate how valuable these blogging secrets from the pros can be.
These blog owners have been through the trenches and have figured out all the important aspects of a blog that should not be ignored.
They've learned how to make great content and how to make a content marketing strategy that gets results.
I reached out in one of my Facebook groups to ask if anyone with high traffic would be willing to let me conduct an interview to help my readers learn more about blogging.
Sam commented saying "I'm up for it and I have over 8 million views per year."
My immediate reaction was 'Oh my god. Be cool. Be cool, Kristi."
I was totally fangirling.
A good friend of mine saw the message and immediately said: "I can't believe Sam Milner wants to do the interview, she has a crazy successful blog!"
I kept thinking she was going to flake on me and it was too good to be true, but she was so cool and helpful.
I will spare you the biography and just let Sam tell you all about her and the success she's had.
Get your pen and paper ready and take notes, people!
1. How long have you been blogging?
I first started blogging on Christmas Day 2008 and have been blogging ever since.
My current blog is a kitchen gadgets food blog called
Recipe This
and I have run this with my husband and kids since November 2015.
Prior to that we would often flip blogs as well as running blogs and when we got bored we would sell it and move onto the next.
I recommend blogging in the short term when you get started as you can build up excellent knowledge in a range of niches and give yourself an amazing blog work experience.
2. How many active blogs do you currently have?
Right now I just have RecipeThis.com. I used to run at least 3 at once, but I found that the quality and my time got stretched.
I can give my heart and soul to just one instead.
We have owned just one blog since early 2016 and it feels so good to just have one focus.
**Sam wanted to show you that her blog traffic has seasonal spikes, from December to February her blog gets tons of traffic, then it slows down for the summer. You can see that trend repeated each year.
3. What is your favorite topic to write about?
Food.
I love to write about food. I dream about food, I want to read about food, and I love to research about food.
Though my second love is frugality and I imagine if I didn't live in Portugal and I lived in the USA I would run a frugal blog instead.
As a blogger, you have to love your subject matter and that is why food was always top of my list when I mentioned to my husband Dominic back in 2015 that I wanted us to concentrate on just one topic.
4. If you had to ramp up traffic on a new blog quickly, what 3 things would you focus on first?
#1 – I would focus on Pinterest
Many people call it a long term game but if you signed up for Tailwind and the Tribes feature you can get your Pinterest content in front of a lot of people fast.
I experimented with this recently and in the first week of July just through Tribes I generated an extra 8 million reach that I wouldn't have had usually.
**Sam provided me with this screenshot to show the impact of Tailwind Tribes has had on her blog.
#2 – I would pay for ads
There are many places that you can use to pay for ads. There is a lot more out there than just Facebook and Google.
My favorite is Microsoft Ads and they are a lot cheaper than what you pay on either Facebook or Google.
#3 – I would update an old blog post
Take a blog post that did okay before that the traffic has died down on.
Update the graphics, check for errors, add in new affiliate links, add some extra information, add a sign-up box to join your mailing list and republish.
Once you have done this share it everywhere like you would with a brand new blog post.
Focus on social media and your mailing list and not only will you get a good boost of short term traffic but long term SEO traffic too.
5. What has surprised you most about blogging?
Jealousy.
Nobody ever really talks about it but it is everywhere.
When you start out in your micro-niche you will have lots of people wanting to be your friend and be friendly with you. But once you have a blog post that does better than theirs, or when your traffic exceeds theirs, then you will experience jealousy from others.
Just like it is easy to get jealous yourself when someone grows faster than you, or uses your ideas and makes more traffic or money from them.
You just have to keep your head down and get on with it and not worry about what others are doing around you.
6. What advice would you give a new motivated blogger to succeed quickly?
Content Is King.
This saying has been around for more than a decade and it is completely true.
If you put out quality content and share it wherever you can.
Then your blog will have a fantastic start.
Get it out there and remember to make sure you have quality graphics that are Pinterest friendly.
I have grown my food blog from nothing to good traffic levels from simply that.
I have not sought out interviews, podcast interviews, or other networking and my traffic success has always been down to Pinterest + SEO along with a bit of word of mouth.
Remember a blog is about your writings and to keep on writing and sharing and you will have great success.
Find all kinds of resources for bloggers, writers, and more on our RESOURCES PAGE
7. What social media platforms do you like best and why?
I prefer Facebook & Twitter for business because they are very good for building up a brand and getting your content in front of your preferred readers.
Twitter is also the place to be to make your loyal long term fans that will always promote your content and tell their friends how amazing you are.
I am not on Instagram as I find that even those with over 500,000+ followers don't get that much traffic compared to what you can achieve for a lot less work on Facebook.
Remember there are only so many hours in a day and you can't be everywhere.
8. Where does the majority of your traffic come from?
My traffic comes mainly from Google & Pinterest.
Depending on the time of the year, it is always one or the other that is the top dog.
Together they bring in about 70% of our 8 million a year page views.
9. How did you build your email list?
My mailing list is a work in progress because I have only been focusing on it this year.
But I am using sign up forms in popular content as well as having pages that rank in Google that are specific to building a mailing list.
I also suggest to my new Facebook Group Members to join my mailing list as they subscribe.
I recommend to bloggers that they create pages specifically for getting new subscribers and focus on SEO that way you can be building a mailing list on autopilot without much work.
10. What tools do you deem crucial to your success?
I love Aweber for building my mailing list, Tailwind for Pinterest growth, and Canva for designing graphics. I use Rackspace for hosting emails and screenshot monitor for managing your virtual assistants.
Away from the classic tools, my number #1 tool for the job is Excel. I use it all the time. It has my content calendar, my accounts, my passwords, my ideas and so much more.
**I later asked Sam what keyword tools she uses. She only uses Google.
Find out how to update an old blog post to get more traffic in my article here (with printable checklist)
11. Have you taken any online courses or read any books you think were incredibly valuable to your journey?
I find that I have been on my journey for so long now that a lot of the courses are very basic and are too beginner for me.
I also find that a lot of courses, in my opinion, are a lot more expensive than what they are worth.
Things that I would happily pay $10-$25 are priced at $500+.
My favorite plan B is the Ultimate Bundles Blogger Toolkit as with this you get to access over 100 different courses and many ebooks and printables and video courses too for less than $100.
It comes out every October and I highly recommend this for both beginner and advanced blogger.
What I also find a lot more effective is when a new course comes out is to research the sites that have given testimonials. That way you can see how a range of people have implemented the information in a course and its like watching over the shoulder of a course in action.
For example, if you were considering buying a Facebook Ads course, you could instead find the testimonials and then view their ads on Facebook.
From that, you could see how you can improve your Facebook Ads. Plus the person that is implementing this info may have done so from several courses, not just the one you were considering buying.
The same can be said for affiliate courses you can see how they are implementing affiliate links into their blogs. Or the course in question may well have an affiliate program.
By reading several reviews you can read exactly what they learned from the course. It is a great way to get new ideas and strategies without buying a course and those testimonials are like gold for learning new things.
12. If you had to give advice to your newbie blogging self, what would it be?
Chill. Literally, chill out. Don't worry about traffic numbers or how much money you're making compared to someone else.
Get great epic content out there and share it everywhere.
Enjoy writing and try not to freak out over the technical stuff as it will come step by step. And most of all enjoy your new blogging business.
13. We are dorks in my household, so I have to ask, what is your favorite nerdy movie or book?
We are also movie nerds and I have a huge DVD collection as well as a Netflix subscription.
For the nerdy DVDs and books, the award has to go to our graphic designer and our eldest son Kyle who is about to turn 18. He is addicted to Harry Potter and has all the DVDs along with the books and lots of memorabilia.
I am just surprised how many Harry Potter fan clubs there are on Facebook & Reddit.
What I Learned From Sam About How to Be a Successful Blogger
Sam and I chatted for a bit when she sent me over her answers. She values being consistent and her blog is 100% written by her.
She does some outsourcing to virtual assistants, but all of the writing and post updates are completely done by her.
Some things I learned from Sam in this interview and through conversation are:
Consistency and patience are the most undervalued blogging skill
Pinterest and Tailwind are incredibly powerful and worth investing your time to learn
SEO is just as important
Focusing on one blog at a time will accelerate your success
Sam creates content that her readers want and her love for food comes through in her writing
New bloggers should focus on SEO, Pinterest, creating great content, and being consistent and patient.
I truly enjoyed this interview and talking to Sam. She is a really genuine person and she loves her craft.
I love meeting people who love this work as much as I do, and Sam definitely fits that category.
Thank you so much to Sam for giving us some fantastic advice on how to be a successful blogger.
Find Sam on One of Her Social Networks
Samantha Milner is a food blogger by day at Recipe This and mum of 3 by night. She lives in
a country cottage in sunny Portugal with her husband Dominic. Prior to this, she worked for
more than a decade in internet marketing. She loves chocolate, Netflix and traveling with
her family.
Pin this article so you can keep Sam's valuable advice handy.
dddddddddddddddd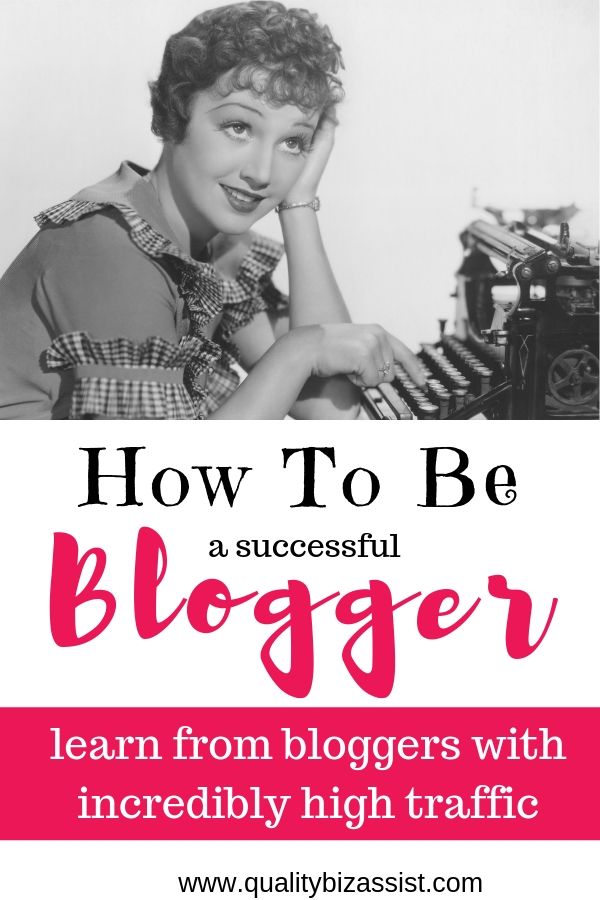 Photo Credit: goalgetters.bloggerstellall.com
Bloggers tell all is a course that is recommended by Nicole Johnson, a very successful blogger, in her interview here.
Photo Credit: depositphotos.com
Deposit photos is where I get all of my photos from. They have high quality images and when you purchase from them, you are purchasing the rights to use the images.
Make sure you read the disclosures to be sure you are using the images in a way that does not violate their terms. For instance, if you intend to sell their images on merch, be very careful you do not violate their terms.
Photo Credit: convertkit.com
ConvertKit is an incredible program that is very user-friendly. When I was learning, I went from not knowing the program at all to setting up an email sequence, sending out an email blast (they call them broadcasts), and setting up forms all in the first session.
It does have a monthly fee, but it is worth every penny. As a newbie blogger, you don't want to pay for a lot of extras and I know it can be tempting, but this is by far one of the best investments you will make.
Photo Credit: www.siteground.com
Siteground is not just a service for me. They have been a sort of partner and IT helper. when I was a newbie blogger, I didn't know how to do anything. They have a chat function as a help resource that I used almost daily to figure out how to install certain things, or figure out the backend of WordPress.
They have saved me hundreds of dollars on services. You can set up your site, buy your domain, get privacy for your information connected to your domain, and get all kinds of help if you need it.
Photo Credit: simplelivingcountrygal.com
Tracy Lynn is so knowledgeable. She has created this awesome calendar for bloggers. When you are first starting out, it can feel like something I call "information soup."
You are bombarded with information and you have no idea where to start or what you should be focusing on. Tracy Lynn breaks it down into manageable steps.
What should you be doing and when. It is an incredibly valuable resource and it's a great price.
Photo Credit: simplelivingcountrygal.com
Tracy Lynn came up with this lead magnet ideas resource that can really help if you are trying to figure out how to get traffic for your blog.
This is a fantastic resource to have in your library to refer back to when you need to figure out what your next steps are.
If traffic is low, pull it out and see if you can find something that is a good fit. With that many (100+) in there, you are sure to find something.
Photo Credit: www.imarkinteractive.com
Grayson Bell is the man you want to talk to when you have an issue with your tech. He knows his stuff and is incredibly quick. Every time I have sent an email, I get a response within minutes. I LOVE that kind of service. I know a few other bloggers that swear by him. He is professional, quick, and knows what he's doing.
This quick fix one service is exactly what it sounds like. Click through to read more about it.
Photo Credit: twinsmommy.com
Elna is the BEST!!! When I first started writing, I followed her blog because she has all kinds of free resources that are incredibly helpful. I took one of her courses and signed up for all of her groups. She never stops pumping out valuable content and her paid resources are packed FULL of valuable information!!
Photo Credit: www.imarkinteractive.com
Grayson will do an evaluation of your blog for speed. Speed is a huge factor when getting people to stay on your site longer. Having a quicker site can lower your bounce rate and increase your dwell time. I've seen people get a traffic boost as soon as their site speed increases.
Site speed is not to be taken lightly, it is a huge factor for SEO. Grayson can help you get your site speed up in no time.
Photo Credit: www.imarkinteractive.com
This inexpensive and quick tune-up is perfect for the beginner blogger.
You've spend hours and hours working on your blog and getting all the plugins, widgets, themes, builders, and more set up on your site. But now you've read that plugins can interfere with each other and you may have issues with security.
Send Grayson Bell a quick email and he will get you fixed up in no time. He responds quickly, is an expert, and will get your new blog up to snuff in for you so you can stop worrying.
Photo Credit: twinsmommy.com
Elna knows her stuff. I have not taken this class, but I highly recommend anything from Elna. She knows her stuff and grew her business while raising small children. She is an invaluable resource of information and very relateable.
Photo Credit: itsasouthernlifeyall.podia.com
Image on Pinterest are so important. These templates can help you crank out attractive and clickable Pins quickly. I have not purchased this service, but I know others who have and they are very happy with it.
Photo Credit: itsasouthernlifeyall.podia.com
Learning how to design in Canva is a crucial skill if you are going to make quality images for your blog. Unless you know photoshop, or another design program, you need something like Canva to make images.
This is a crash course on how to learn Canva and will help you make better quailty images for your blog.